Recycled Rides Photos
Southeast Community College
Jeremiah's CarStar Collision
The Collision Centers
David Maus Collision Center
Caliber Collision and Travelers Insurance
Collision Specialists CARSTAR and State Farm
The Collision Centers of New York, GEICO, State Farm
Manchester Collision Center and GEICO
LaMetry's Collision and State Farm
ABRA Auto Body & Glass and GEICO
Enterprise Family Promise
Community Action of Lincoln
Support The Enlisted Project
ABRA of Riverton
H&V Collision Centers
NABC Recycled Rides at NACE/CARS 2014
MAACO and Enterprise Rent-A-Car
Southeast Community College

The 2006 Honda Accord was taken through the 4th of July parade on a trailer with the recipients in Seward Nebraska which is the 4th of July City of Nebraska. It was then presented during the award ceremony of the parade winners.

Jeremiah's CarStar Collision

The Recycled Rides vehicle was donated to Edwina Mugunbay, a retired Army Veteran who has fought 4 tours in Iraq and Afghanistan. She is a single mom who had to walk several miles a day for a part time job to support her young daughter. Because she now has a vehicle she was able to find a full time position. Because of the generosity of our vendors and partners we were able to ascertain 4K in gift cards/and goods.

The Collision Centers

Two wartime veterans were recognized for their military service and gifted with vehicles. These veterans have struggled since they returned from serving the United States. Both from Long Island and reside with their children and spouses, began to feel the pain of not having a vehicle. From walking to doctor's appointments for their sons, struggling to buy food, to using their last monies for the bus fare, the two veterans were hit with challenges after challenges. The ceremony took place at 10 a.m. on Thursday, December 21, at the United Veterans Beacon House on the grounds of Northport VA Medical Center.
Recycled Rides Videos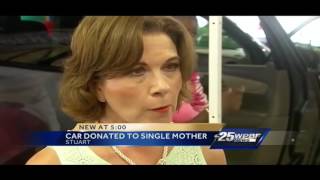 Stuart, FL Recycled Rides Gifting - 5/24/2016
Single mom in Lancaster County gets free car
Stuart, FL Recycled Rides Gifting - 5/24/2016

Caliber Collision partnered with Allstate to provide the gift of transportation to a deserving Family Promise recipient on May 24, 2016. Watch ABC's WPBF coverage of the event.

Single mom in Lancaster County gets free car

LANCASTER, Pa. -- Some local businesses teamed up to help turn the luck around for a single mom in Lancaster County. Maria Lucia Melgar received a completely refurbished 2011 Hyundai Sonata as part of the Recycled Rides Program. She was relying on public transportation to get back and forth from three jobs to provide for herself and her 8-year-old son and disabled mother. Recycled Rides is a program which the National Auto Body Council works to repair donated vehicles to people and families in need, The car was donated by Geico, RW Mallon donated the paint, supplies and equipment. Members of Faulkner BMW volunteered personal time to repair the car.